No Shave November is upon us and lots of guys, some women too, are storing away their clippers and razors until December 1st, opting in to let their five o'clock shadows grow in long and proudly. Many guys are simply just thankful to have a break from shaving, some see it as a competition to who can grow the longest beard, whereas there are some people truly growing their whiskers in support of the official cause.
What is No Shave November and why so many are skipping their waxing appointments, growing beards and mustaches, or letting their legs go natural. What is the meaning behind all this hair growth? 
No Shave November is to grow awareness of men's health, usually prostate cancer by embracing our hair, which many cancer patients lose due to vigorous treatments, and letting it grow wild and free. Donate the money you typically spend on shaving and grooming to education about cancer prevention, save lives, and aid those fighting the battle.
Go Natural: Kick Toxic Chemicals
There are many man-made cancer risky chemicals to avoid however parabens and phthalates were at the top of the list that led to Nadira Chase, Founder of Adiva Naturals, to develop her own product line absent from these silent killers over 15 years ago. Read how the loss of a close girlfriend fueled her desire to spotlight the risk behind synthetic (man-made) chemicals in our daily beauty and wellness products.
Parabens

 

are associated with the increase of cancers and found in makeup, body washes, shampoos, deodorants, facial cleaners, food, and even pharmaceutical products. Parabens act as a preservative to prevent the growth of bacteria, mold and yeast.
Phthalates linked to the increased risk of cancers as endocrine disruptors in early breast development in girls. Often found in deodorants, perfumes/colognes, hair sprays and moisturizers mostly disguised as the secret formula.
Indulge Naturally: Hair and Body Care Products by Adiva Naturals
No Shave November: HIStory
No Shave November has been a tradition for many years, but it wasn't until the fall of 2009 that members of the Chicagoland Hill family decided to use it as a means to raise money for charity. It was a project that held special meaning to the eight Hill children after their father, Matthew Hill, passed away from colon cancer in November 2007.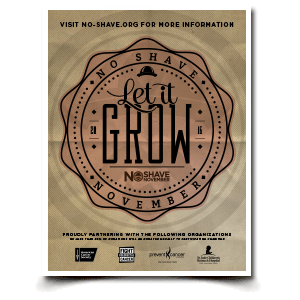 Support No Shave November the Cause
Donate to No Shave November www.no-shave.org

After November Don't Kick the Beard: 
Top 10 Amazing Black Men Beard Styles