Vegetarian Awareness Month


October is Vegetarian Awareness Month!
We are excited to bring awareness to the ethical, environmental, health, and humanitarian benefits of the vegetarian lifestyle. We understand the importance of this lifestyle, and are proud to say we offer a full line of vegan friendly products to our customers. With access to so much information via the internet, many people have different ideas or understandings as to what a vegetarian diet actually consist of.
A vegetarian is defined as someone who does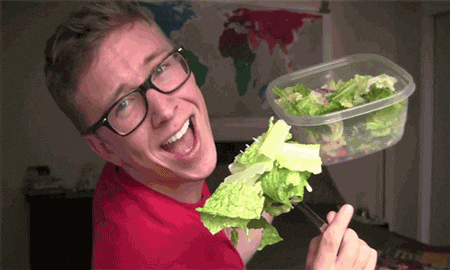 not eat meat, poultry or seafood for religious, moral or health reasons. Becoming a vegetarian has become more appealing and accessible thanks to the year round availability of fresh produce, as well as more vegetarian dining options and the growing culinary influence with cultures with plant based diets.

There are many benefits that go along with adopting a plant based diet... Read below our TOP FOUR BENEFITS and a few RECIPES we wanted to share with you, our Adiva Naturals family.
#1 Plant Based diets help ease
Psoriasis symptoms 
Psoriasis is a inflammatory disease, so consuming foods rich in antioxidants can help fight the inflammation. You can start the transition by throwing out all your sodas and processed snacks, and replacing them with water or green tea (for antioxidants), and replacing your processed snacks with fruits and vegetables. In addition to changing your diet, our Adiva Naturals Eczema, Psoriasis and Dandruff Therapy Set will work on those stubborn spots that need a little more tender loving care. Increasing your fresh produce intake, as well as using our all natural products specially formulated for eczema/ psoriasis prone skin will help improve the inflammation you experience and will bring you relief if you stay consistent.
#2 Adopting a vegetarian diet
may improve your mood 

Arachidonic acid is a substance that comes from  animal sources, and it has been directly linked to mood disturbances. Researchers at Benedictine University performed a study to investigate the impact of restricting animal products and mood and confirmed that mood improvements do happen when eating meat, fish, and poultry are restricted. Not only does a plant based diet improve the way you feel, it also helps improve your mood. We also recommend our Hair & Body Refresher as a great way to bring positivity to you and your surroundings. Just a couple of sprays to your body, hair or your area at work, home or car will surround you with an invigorating scent that immediately picks your mood up.
#3 Vegetarians are at lower risk of
High Cholesterol and Diabetes
There is absolutely no health benefit to consuming animal fat. If you cut the saturated fats that typically come from meats and dairy products, you will lower your blood cholesterol. Cooking with unsaturated oils like olive, corn, canola, and peanut oil will also help lower cholesterol. As far as diabetes is concerned, consuming vegetables and carbs that are low on the glycemic index make it easier to manage your sugar intake. Making small changes, like wheat bread instead of white bread, or quinoa instead of rice and incorporating more high fiber carbs into your diet will help keep your sugars at a manageable level.
#4 Vegetarian Skin usually stands
out in a crowd!
Looking for a way to nurture your skin and remain perennially beautiful? You could perhaps consider becoming a vegetarian, because another one of fabulous health benefits of being a vegetarian is beauty and younger looks for longer.
Vegetarians don't eat nasty processed foods that damage their skin, and instead subsist on healthier nutrients that ensure they glow with health. Think about it: the healthier your diet, the healthier you'll look! So to slow down the ageing process, you could consider stacking up on the greens.
Here are a few delicious vegetarian recipes that we love!
This Thai inspired yellow curry is a delicate mixture of spices blended together for a creamy, savory dish. Don't let the number of ingredients scare you - this is a VERY simple dish!
Preparation Time: 15 minutes
Cooking Time: 40 minutes
Yield: About 8 servings
INGREDIENTS
YELLOW CURRY SAUCE
3 15.5oz cans coconut milk (about 46oz total)
1 cup water
1 tablespoon soy or tamari sauce
4oz red curry paste
2 tablespoons agave nectar
juice of ½ lime (about 1 tablespoon)
1 teaspoon ground ginger
1 teaspoon garlic powder
1 teaspoon ground coriander
1 teaspoon ground cumin
2 teaspoons turmeric
½ teaspoon sea salt
¼ teaspoon ground nutmeg
1 tablespoon white sugar
1 tablespoon brown sugar
VEGETABLES AND CHICK'N OR TOFU
1 white potato, peeled, cubed, parboiled 5 minutes
16oz frozen green beans (fresh may be used as well)
2 large carrots, sliced thick
1 large white or sweet onion, cut into large chunks
1 ½ cups white mushrooms, washed and quartered
5 pcs. Gardein® chick'n, cut into chunks, or 16oz extra-firm tofu, cut into chunks
2 cups cooked jasmin rice
 DIRECTIONS
Combine the coconut milk, water, soy sauce, red curry paste, agave nectar and lime juice in a large pot and simmer over medium heat.

In a small mixing bowl, combine the remaining spices of the YELLOW CURRY SAUCE.  Add the spice mixture to the liquid, mixing well and stirring occassionally. Let the curry continue to simmer while you prepare the vegetables in the next step.

Add the vegetables and

Gardein® chick'n

(or tofu) to the curry. Let simmer another 30 minutes. Serve with rice.
Coconut Rice and Red Beans was inspired by a traditional "Rice and Peas" Jamaican recipe. Coconuts are one of Nadira's favorite fruits so this dish is her specialty in our household!
Preparation and Assembly Time: 10 minutes
Cooking Time: 30 - 35 minutes
Yield: 8 servings
INGREDIENTS
1 cup canned kidney beans, washed and drained
2 whole green onion, crushed
2 (14 oz.) cans of coconut milk
1 teaspoon black pepper
1 ½ teaspoon thyme
2 teaspoons sea salt
2 cups long grain white rice
DIRECTIONS
Wash and drain the kidney beans and set aside. In a skillet (iron skillet preferred), crush the green onion with a cup or small bowl.




 

Add the coconut milk, black pepper and thyme to the crushed green onion. Stir the coconut milk. Bring to a boil over high heat then reduce the heat to low. Cover and simmer for 10 minutes.




 

Remove the green onion with a fork and discard.  Add the rice and salt. If necessary, add more water so that the liquid is 1 inch above the rice. Cover and simmer for 20 minutes.




 

Fluff the rice with a fork, the rice should separate easily. Turn off the heat and cover again.
Makes 8 servings
Veggie Chilli
This Veggie Chili is so easy to make and very hearty. Goes great with cornbread, or put it on top of a veggie dog!
Preparation and Assembly Time: 10 minutes
Cooking Time: 20 minutes
Yield: 4 - 6 servings
INGREDIENTS
1 onion, chopped
1 teaspoon garlic powder
1 tablespoon ground cumin
3 cups veggie crumbles - unfrozen (Yves®, Boca Burger®, Trader Joe's, Whole Foods, etc.), or you can use ground homemade seitan
14 oz can black or kidney beans, drained
28 oz can crushed tomatoes, undrained
6 oz tomato paste
½ cup water
1 - 2 tablespoons taco seasoning (mild or spicy - depending upon your preference)
Salt to taste
Oil for sautéing
DIRECTIONS
Sauté the chopped onion with the garlic powder and cumin until soft. Add the veggie crumbles and continue to cook for about 2 - 3 minutes, stirring constantly. Turn off the heat.




 

Add the beans and tomatoes, tomato paste, water and half of the taco seasoning. Stir and simmer on low heat for about 10 minutes.




 

After 10 minutes, taste and add the remaining taco seasoning and a little salt if needed.
Makes 4 - 6 bowls.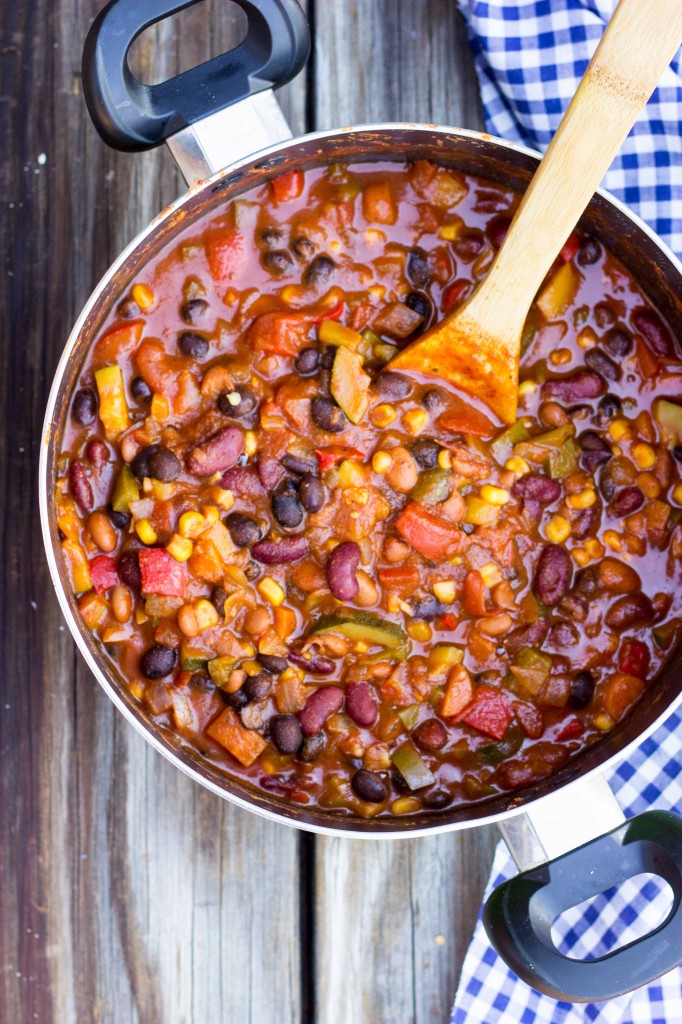 Have you made the transition or are you making or considering making the transition the vegetarianism? What tips or advice can you share with those of us making this transition?
Do you have any recipes to share?
Please feel free to comment below!