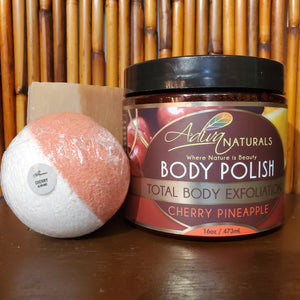 Luxurious Bath Set: Body Polish, Bath Bomb & Soap - Cherry Pineapple (Seasonal)
Regular price $ 40.99 $ 37.99 Sale
Available for Mother's day and Christmas holiday seasons. 
Adiva Naturals luxurious bath set includes 3 delicious products: Ginger and Sugar Body Scrub Polish with a complementing Bath Bomb and Natural Soap. Developed to give your skin the perfect exfoliating and skin detoxifying experience! Enriched with pure and gentle ingredients, our revitalizing sugar polish will scrub away dead tired skin and replace it with nourishing and moisturizing vitamins and minerals.

Bath / Gift Set Available in several flavors:
Sensitive Skin / Sensitive to smell choose:
PRODUCT BENEFITS: The ginger gently removes toxins with each use, leaving behind healthy and silky-smooth skin. The sugar exfoliates dead layers of skin, revealing your new you.

INGREDIENTS: Sugar and organic ginger. Featuring: Tahitian coconut oil, avocado oil, olive oil, castor and safflower oil with an exquisite blend of essential oils and essences. It comes complete with lavender flower buds and a coconut shell for easy scooping.
*Free U.S. Priority Shipping is valid on all orders over $75.00, excluding tax and shipping charges. Orders are shipped in 1 to 2 business days (Monday-Saturday) after the date of your order via USPS. (Express shipping is available by phone). We ship Internationally.