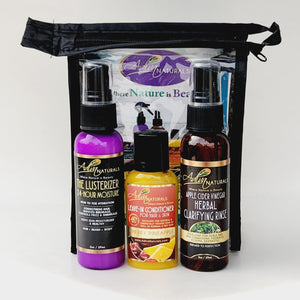 Try me - Loc Care Kit (5 Flavors)
Regular price $ 23.99 $ 29.99 Sale
Adiva Naturals Loc Care Kit is 
a must have to keep your hair and skin truly decadent. Introducing the Adiva Naturals Loc Care Kit – your
optimal
essential for luxurious hair and skin care. This comprehensive kit features three carefully crafted products that will elevate your locs, leaving them looking impeccable, feeling nourished, and smelling delightful.
The Lusterizer: Our Lusterizer is the key to locking in moisture, defining your style, and enhancing the softness and manageability of your locs. Say hello to well-defined, beautifully textured hair. 2oz 
Hair and Skin Leave-in Conditioner: Our specially formulated leave-in conditioner not only combats hair breakage and supports growth but also quenches thirsty skin. Experience the dual benefits of healthy locs and moisturized, supple skin. 1oz - Choose your flavor. 
Apple Cider Vinegar Herbal Clarifying Rinse Spray: Bid farewell to buildup and product residue with our clarifying rinse spray. This powerful solution dissolves buildup effectively, keeping your hair fresh and clean between shampoos. 2oz 
Elevate your loc care routine with the Adiva Naturals Loc Care Kit and indulge in the luxury of radiant, well-moisturized locs and skin.
The Lusturizer INGREDIENTS: Whole leaf Aloe Vera juice, Rosewater, Wheat germ,( vitamin E, B1, B2, B3 and B6) Coconut oil, Vegetable glycerin, DL-Panthenol (pro vitamin B-5) Marshmallow extract, Avocado oil, Cetyl alcohol, ploysorbate 80, Rose essence, Tocopherol (vitamin E) Potassium sorbate (naturally derived preservative system)
Hair and Skin Leave-in Conditioner INGREDIENTS: Shea butter, avocado oil and virgin coconut. Featuring: Sunflower oil, sesame oil, castor oil and a unique blend of plant extracts, vitamins and minerals. 
Apple Cider Vinegar Clarifying Herbal Rinse INGREDIENTS: Distilled water apple cider vinegar, lemon juice, chamomile flowers, lavender flowers, nettle, rosemary, sage, Msm, burdock root, peppermint, catnip, menthol crystals, citric acid, frankincense, lemongrass citric acid polysorbate20.
*Orders are shipped in 1 to 2 business days (Monday-Saturday) after the date of your order via USPS. (Express shipping is available by phone). We ship Internationally.