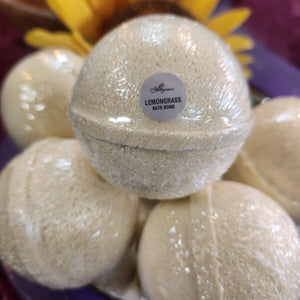 Bath Bomb/Foot Soak - Lemongrass
Regular price $ 4.99 $ 4.99 Sale
Adiva Naturals Lemongrass Bath Bomb/Foot Soak, featuring delightful earthy undertones and a refreshing citrus fragrance reminiscent of lemons. Indulge in the enchanting aroma that promises to be an absolute sensory delight.
Drawing from our expertise in ingredients and bath bomb crafting, we have carefully developed a product that caters to those seeking a natural and budget-friendly option. By using botanicals and clays for coloring and sticking to the purest natural ingredients for the flavor, we have created the ideal bath bomb. To elevate the experience further, we've infused it with sunflower oil, providing your skin with a soft and moisturized feel. This bath bomb is the perfect addition to any collection.

Adiva Naturals Bath Bomb/Foot Soak are individually shrink wrapped. 
Each bomb averages 4.5oz and is 2.5" in diameter. Contains one bath bomb.
Plug the bathtub and fill it with water.
Place bath bomb

 

in the water - it will fizz.
Get undressed and step into the tub.
Sit back and relax in the tub.
When the water gets cold(consider rinsing off in the shower), then get out of the tub and dry off.
Ingredients: Sodium Bicarbonate, Citric Acid, Arrowroot Powder, Lemongrass EO, Yellow French Clay, Sunflower Oil, Water, Turmeric
*Orders are shipped in 1 to 2 business days (Monday-Saturday) after the date of your order via USPS. (Express shipping is available by phone). We ship Internationally.